Sarah Robbins Favorite Things 2017
These Are a Few of MY Favorite Things!
It's my FAVORITE time of year!
The holidays bring about my two favorite things: Friends & Family and Entertaining!
Each year I host a "Favorite Things" party for my "favorite peeps!" Check out the details of the day…
(and holiday decor below!)
WELCOME TO THE ROBBINS NEST– Holiday Home Tour!
It truly is the "Most Wonderful Time Of The Year!"
If you know me, you know I LOVE decorating–I often say if I had to choose another profession, it would be interior decorating! It's even more fun this time of year–which is why I start early (November) and keep it up late (late January) to enjoy the glitz and glam this time of year brings!
My husband and I tend to agree–he is great at decorating the outside, and I focus on the interior. The same is true for holiday decor. He did a beautiful job outside didn't he? Continue reading
Every year a small group of gals from my church and I get together for a GALentine's Day Brunch! It's a chance to catch up, and show LOVE to one another.
In the spirit of LOVE and celebration, I choose a woman to shine a spotlight on! Last celebration, my sister was launching her new cookbook, so we featured her book, and each girl got to go home with a copy (along with a little seasonal Starbucks mug from me!)…
This year, there were so many exciting celebrations…each girl was truly celebrating something (from new books, to babies– from milestones ministry to milestones in business..yes, my friends truly are THAT awesome!) So we celebrated our collective group of amazing women! I was thinking it would be cool for each of us to nominate a woman for next year? Continue reading
Oh The Places You'll Go– Gabriel's First Birthday
My, how time flies! My baby turned ONE earlier this month! Also celebrating her birthday this month, is his great-grandmother Beverly who turned 90!
Phil and I found it fit to celebrate both young and wise in an intimate celebration with immediate family!
The Theme:  Dr. Seuss "Oh, The Places You'll Go!" (and for Grandma we celebrated, "Oh, The Places She's Been!)
When guests walked in, they signed our "Guest book" which was Dr. Seuss' "Oh The Places You'll Go". I had our family sign a page for Gabriel, and moving forward we will have each of his teacher's (and influential people in his life) sign it each year, and I plan to proudly present it to him on his 18th birthday, to celebrate all of the "places he's been!"
Guests would "write a message on any of the pages, it will be something he treasures through all of his ages!" Continue reading
This Christmas was the BEST ONE EVER…
We gifted a family a home, Gabriel's cousin Easton was born and they celebrated their first Christmas together…and on Christmas Eve we had the gender reveal party for Gabriel's cousin-to-be (due Father's Day)!
Since we hosted the party on Christmas eve, we chose a festive theme– "Buck or Doe!" Everyone wore red if they thought the baby would be a girl, and green if they thought it was a boy–this made for super fun and festive photos!
What is a gender reveal you ask?
The parents get an ultrasound or blood test to determine the sex of the baby, and often keep it a surprise and find out with their family together at a fun gathering. You can view mine here, and my sister Emily's here.
Since my sister is a celebrity food blogger, and famous for remaking healthy versions of food people crave, I knew I had to get creative (especially for the dessert bar and drink bar!)
For drinks, we started with a "BABY It's Cold Outside" Hot Cocoa and Coffee Bar! Continue reading
"Home" For The Holidays…
For the past three years around Christmastime, Phil and I gave the gift of "home"… In 2014, we built a home for our 117 "sons" in India (learn more here). In 2015 we built a home for our 47 daughters" in India, in honor of Gabriels birth (learn more here). Thanks to our network marketing business business, it allowed us the freedom and flexibility to not only build these homes, but to travel to spend time with our "children".
This year we prayed about gifting a home–and the Lord spoke to our hearts about gifting a home to a deserving family in Michigan…
Here's the story….
Phil and I were young when we got married, and we were financially strapped (we remember having 19 cents in our bank account, and paying bills from our quarter jar). We bought our first apartment in a tougher area of town, and desired to move to a safer neighborhood, and to purchase our first home.
Before the downturn of the economy we got into a really bad (interest only) mortgage. Phil was an entrepreneur; I was a brand new teacher. When the economy took a turn for the worse, so did our situation…home prices started drastically decreasing (especially in our neighborhood), our mortgage was sold to a company in Asia (so we couldn't even qualify for government refinance programs no matter how many times we tried), people around us were foreclosing, and it seemed there was no end in sight.
Everyone told us to foreclose! But we knew in our hearts that this wasn't the best thing to do, and that God would order our steps and bless our obedience, so we faithfully paid a really high monthly "interest only" payment on the home. We prayed for answers every day…
Our answers came in a form of a business that has since radically blessed our family (and allowed us to bless many other families too). It allowed us to purchase our current home, which is a miracle and total testimony of God's goodness in and of itself (see Chapter 7 of my husband Phil Robbins' book, The Secret Garage to hear the story of our "Jericho"—our miracle home! It will blow your mind!!!)
When we were moving from our old home to our new home, we happened to have had a flood, and had boxes everywhere. Our turnaround from our first home to our miracle home was so fast we didn't even have our first house up for sale. During the move, a woman happened to drive by and knocked on our door (the house was a mess from the flood and moving,) and she asked us if we'd be willing to rent her our home since they were looking (her husband is ill and she needed to be closeby to work, his treatments, family, etc)! This was a total answer to prayer for both of us!
We knew it wasn't the season to sell (our house depreciated in value by over 70,000!) So we said yes! We faithfully paid off our first home and current home, and for the past few years this family has rented from us—they've gone through so much personally, but they remained faithful to God, and faithful to their commitment in caring for our home.
This December, Phil and I felt a strong stirring in our hearts (individually, and as a couple) to "gift" them the home. So on December 23, we Facetimed our renter to give them the news of God's faithfulness—that the Lord was blessing them with the home! She cried saying "You won't believe this. When I walked in the home for the first time, I heard God whisper to my heart… He said 'this is your home'. I didn't know how that was going to happen but now I do!" We were all in tears! We talked about how this was a sign from God that he was caring for them in their time of need, and continuing to meet their needs, answer their prayers, and show His faithfulness to them! God is faithful…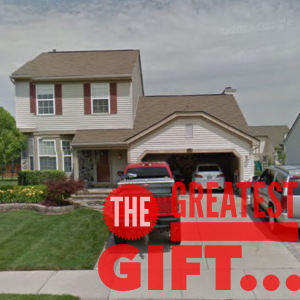 Phil and I always say "blessings are tied to our obedience". We also cannot forget that other people's blessings are tied to our obedience, as well!
Our life would have looked a lot different for us (and them) if we would have walked out on the home and followed the world's "wisdom" to foreclose. I am so glad that we followed the leading of the Lord—He ultimately knew that first home belonged to this family, and he has us in our home today for a plan and purpose! (We wouldn't have qualified for our current home, if we had foreclosed).
I know it's hard to trust God when things don't make sense, or we don't see an end in sight, but I want to encourage you today that there is a God who can make a way when there seems to be no way! He holds the answers to your prayers, if we would just seek Him and listen to Him!
Present your deepest desires to God! Cast your cares upon the Lord! How do you hear from Him? From the time we spend with him in prayer, in giving thanks, and in reading (and speaking) his word. I can't encourage you enough to read Phil's book The Secret Garage (to not only hear more of our miracle testimonies, but it teaches you how to pray, and how to hear from God. ) He cares about ALL THINGS concerning you!
As this year comes to a close I want to encourage you to bring your requests to God! He wants to speak to you, and lead you! He is not a deaf or dumb idol–He speaks to us through His word, and He will always lead you with His peace…
If you feel troubled or perplexed, don't make a decision until you pray for answers and feel led by His peace. When you hear that still small voice, listen and obey! Don't be distracted by- or led by anyone else's opinions. Remember: Your blessings—and other's blessings are tied to your obedience!
To GOD be the glory for the things HE has done! This was our best Christmas yet!
Wishing you and yours a BLESSED 2017! Happy New Year!
#TrustHim #ALLThingsArePossible #HeWantsYOUToBeBLESSEDToBeABlessing
I believe in letting our lights shine so we can encourage others to walk out their God given destiny, to see their reason "why" in action, and to inspire others to do good here during this short time we have on earth.
Matthew 5:16New Living Translation (NLT)
16 In the same way, let your good deeds shine out for all to see, so that everyone will praise your heavenly Father.
I hope this inspires you to believe for more, encourages you to reach for more, and gives you more hope for YOUR future!
PS- people often ask how we were successful in this business, given our start. The Lord spoke to me to write a book to bless other's in business, and to teach them exactly how it was done. It is the #1 best-seller on Amazon today! I encourage you to pick it up, learn from it, implement it…so you too can be BLESSED to be a BLESSING! Check out my book here! 
These Are a Few of MY Favorite Things!
It's my FAVORITE time of year!
The holidays bring about my two favorite things: Friends & Family and Entertaining!
Each year I host a "Favorite Things" party for my "favorite peeps!" Check out the details of the day…
(and holiday decor below!)
Dinner was catered (less stress, no mess) by our favorite Mediterranean place!
We washed it down with some of our "favorite drinks"… champs (& cider for all the "preggos")–we always have a few each year! 😉
I decided to keep things easy on myself, and do disposable place settings (different themes each year). There are so many beautiful sources I've found online to make disposable place settings look beautiful!
…and as they sat down, they were gifted one of my "favorite things" as a favor…
This year I found a beautiful ceramic mug commissioned by Rebecca Rebouche, a native Louisianan living and working in New Orleans, who creates nostalgic, emotive and whimsical art out of paint, mixed media and stitched soft sculpture; a practice best described as contemporary folk art. Topped with a cute edible gingerbread house! 🙂
After dinner the guests brought their mugs (one of my "Favorite things" as their favors) over to a coffee bar to find coffee of different flavors, seasonal creams, sweeteners, and of course…whipped cream!
Across the counter in my butler's pantry was a dessert bar set up. A "favorite" of all of my guests in parties past is a dessert bar by my sister (and celebrity blogger/ chef "Dashing Dish"!)
This year she hosted a trifle bar..with gluten free cakes (healthier versions, which is what her cookbook and blog are known for), lighter versions of fillings, and toppings (some naughty, some nice–your choice!) The instructions–get a glass, layer it up with your "Favorites", and enjoy!
After dinner and dessert, we headed to our lower level for our annual "favorite things" gift exchange!
Here's how it works… each guest brings 3 gifts wrapped (this year we did a contest for who had the most creative wrapping!) We each put our name in a bowl 3 times, and picked 3 new names (not our own). The 3 names we picked were the 3 people we got presents from. Each person got to share why they were gifting that item as their "favorite thing"! It is so fun to learn of each other's favorites, and leave with 3 new "favorite things"! This year I gifted a few of my favorite holiday candles & match strikers (wrapped in a cute Santa bag!)
We also did a contest for "best gift" (we voted) and "best wrapping"! Check out these great gifts!
A great time was had by my FAVORITE FRIENDS…
Hope you have a very happy holidays filled with your "favorite things" (& peeps!)
To keep it festive and fun…
Here's our holiday home tour to top off my favorite post of the year!
CLICK ON A PIC TO START THE SLIDESHOW TO SEE FULL SIZE! 🙂
Yesterday was a big day for Gabriel–dedication day! (If you've never heard of a baby dedication, this is a good reference to learn more.) As parent's we accept responsibility in raising Gabriel in a Godly manner, and we ultimately trust God with his life! We are so excited for the destiny on our son's life!
We invited Gabriel's grandparents, and aunts & uncles to celebrate with us! Here were some details of the day (which are also a few of my fall favorites!)
I got these R's from a local shop! So different than the traditional wreath! 🙂 I wanted some fall decor on the porch to warmly greet our guests!
Similar to  the Christmas tree themes in our home we shared on our "Holiday Home Tour", we like to "deck the halls" with pumpkins in the fall–but more glitzy and glam than the traditional rustic decor!
I loved these Makenzie Childs pumpkins for our kitchen/ family room!
And believe it or not, I found these sweet pumpkins at a really great price for our dining room, at TARGET!
I got these beauties a few years ago, but I bet if you google DIY rhinestone pumpkins you could make your own, and get the look for less! 🙂
Here's a close-up!
I'm big on flowers, so here is a fun fall arrangement we had made:
And the best fall find…this little tea towel from Anthropologie!
My favorite fall candle? NEST! Perfect for the "Robbins Nest" ongoing theme at our home! 🙂
When family is here, I like to focus on FAMILY (not dishes!) So we cater in–and I use paperware! Yep, no stress…I found these at Target!
I love Chalkboard signs…we used this to display our thanks to our family (for celebrating our little "pumpkin").
We asked each grandparent, aunt, and uncle to sign a book to commemorate Gabriel's dedication day!
The book was "Good Good Father". If you follow my blog you know that this is the song we sang to Gabriel when he was in my belly…he still finds comfort when I sing it to him today.
We commit to be the best parents to him on this earth…but find comfort in knowing that we can trust our Heavenly Father with his life and his future, for all of his days, and for eternity!
Thanks for popping into the blog, and celebrating our little pumpkin, Gabriel!
Photo cred for this sweet pic: the Sweet "Miss Celia"
My baby sister is having a baby! And how good is God that he is also due the same week of Christmas (like my son, Gabriel!) We have a feeling these two will be best of friends, about one year apart!
Here are the invites and the theme:
And the invitation inserts:
Myself, my mom, and sister Katie decided to host her baby shower where I had mine–the beautiful Royal Park Hotel. We love the Conservatory, as well as that gorgeous "tiffany blue" chandelier!
The theme we chose was "Oh, the Places You'll Go" since my sister is an Elementary School Teacher. We had guests sign the book by Dr. Seuss, and moving forward she will have each of her child's teachers sign it each year. She plans to present the book back to Easton when he graduates high school! 
Hot air balloons are the theme of this Dr. Seuss book, so we had them decorating each table, along with some pretty roses, of course! Each table also included the "Wish tree" instructions. Our family isn't big on baby shower games, so this is an activity we enjoy–"Write your wish for Baby-To-Be and hang them on the wishing tree!"
My aunt Lorrie made these sweet hot air balloon cookies as favors for the guests!
And here's the wishing tree…before, and AFTER! (Look familiar?)
People seem to enjoy these baby shower brunches!
Brett's mom made this lovely cake!
My sister Katie and I had fun with this whimsical theme in decorating, gifting, etc! Our gifts to baby…We had each guest bring a book in lieu of a card to help baby build his library. I chose "Oh, Baby, the places you'll go!" It was fun to write a note inside to my sweet nephew!
I can't wait to meet this sweet angel! Oh, the places he will go!!!
Writing this warmed my heart, and gave me a little flashback of my shower, which you can view here! 
It's been a while…and for good reason. I have soaked up the last 8 months of being "mama" to my sweet son Gabriel (aka "Baby G"!) It's amazing how life changes–not just our bodies, schedules, sleep, etc…but how our life changes for the GOOD.
Being a mom has caused me to worry less about the "little things" and now I worry more about things concerning him! I guess you can call it "shifted worry"! But then, I bring to remembrance this verse:
Philippians 4:6-7New King James Version (NKJV)
6 Be anxious for nothing, but in everything by prayer and supplication, with thanksgiving, let your requests be made known to God; 7 and the peace of God, which surpasses all understanding, will guard your hearts and minds through Christ Jesus.
It has also caused me to carefully think about "legacy" in every decision I make…my desire is for him to view me as a woman of character and integrity, a faithful wife to his father, and a devoted mother to him. His opinion of me will form over time, with each decision that I make, so I am choosing them wisely.
My success is not about me–it's about legacy. I'm constantly asking myself where more I can give  of my time, talent, and resources to others, while not sacrificing what is most important to me (him).
He is at the forefront of every decision I make.
I'm not going to lie…the transition is tough…at times you struggle with identity, but I am confident in the role I have to raise a mighty man of God, who I believe will be a world-changer!
TRUTH: "Your greatest contribution to the kingdom of God may not be something you do but someone you raise." -Andy Stanley
There are times where I felt "mushier" than most…but then I praise God that he allowed this body to carry a happy, HEALTHY baby boy to full term (plus two weeks!)
There are times I am so tired or forgetful that I walk into a room and have to think (for about 30 seconds) why I am there! LOL! But I am CHOOSING to rejoice in the journey and make the most of my moments with him! He is my EVERYTHING, and I refuse to lose sight of that! Nothing and no one will steal my joy, or my quality time with him.
Often times I see people setting goals, and defining their reason "why" (why they do what they do), yet they sacrifice the very ones they are doing "it" for. I want to encourage you to put them first (yes, the days are long, but the years are short), instead make "healthy exchanges" in other areas where possible (less TV time, etc), as this will be the legacy you leave and a seed you sow that will bear good fruit for generations.
Put the phone down, enjoy those chubby cheeks, sweet smiles, and soft voices. I'm already finding, it goes far too fast! When I am away from him, that is when I am glued to my phone, scrolling through the 10 million pictures that I take, that is taking up all the storage on my phone (*smile*).
I'm so thankful God chose me to be his mom!
Here are some great shots from Jean Smith Photography of his 6 month shoot!
(*click on a pic to start the slideshow–my FAVE is the one where he gets away with pulling my hair, little stinker!)
(*Thanks for letting me be a gushing first time mom, and share my sweet boy!)
Are you a parent? What is the favorite part of the stage your kiddos are in?